Hawgsmoke 2014
Since 2000, the USAF organises the biennal "Hawgsmoke" competition, where A-10 units from the USAF gather to compete with each other in bombing, strafing and tactical planning. As the 357th FS "Dragons" had won the last edition in 2012 at Davis-Monthan, they were tasked with organising the 2014 event (again at Davis-Monthan AFB). In the 2014 edition, 14 teams participated in the exercise.
History
Hawgsmoke grew out of the discontinued "Gunsmoke" Air Force Worldwide Gunnery Competition. Gunsmoke had been the US Air Force's air-to-ground gunnery and bombing competition involving multiple airframes, first held in 1949 and then biennially (except for 1963–1980) from 1954 to 1995 at Nellis Air Force Base.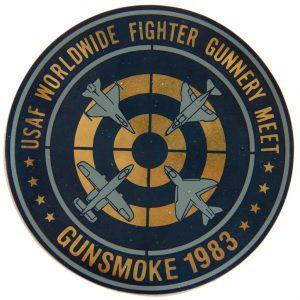 Colonel Cliff Latta of the 172d Fighter Squadron is credited with initiating the first Hawgsmoke competition at the Alpena Combat Readiness Training Center, Michigan and was hosted by the Michigan Air National Guard's 172d Fighter Squadron from Battle Creek. A-10 units from around the world sent four aircraft and associated crew to compete in ground attack and target destruction events. The 118th Fighter Squadron from the Connecticut Air National Guard won the first event and in turn hosted Hawgsmoke 2002, at Fort Drum, New York.
In 2002 17 teams and 62 aircraft competed. The overall winner was the four-member team from the 47th Fighter Squadron from Barksdale Air Force Base (LA). Hawgsmoke 2002 emphasized target acquisition and focused on accurately dropping practice bombs, firing the AGM-65 Maverick missile, and strafing proficiency with the 30 mm GAU-8 Gatling gun.
Hawgsmoke 2004 was hosted by the 47th Fighter Squadron and held at England Air Park, Louisiana. The competition grew to include 18 teams and more than 70 aircraft. Weather conditions forced the cancellation of the competition events and consequently the event became known as "Hawgwash" 2004.
As there was no winner in 2004 the 355th Fighter Wing was selected to host the 2006 event. It was held 22–25 March at Davis Monthan Air Force Base, Arizona. Hawgsmoke 2006 coincided the 30th Anniversary of the A-10; consequently, over 140 aircraft flew in to take part. The 303d Fighter Squadron from Whiteman Air Force Base, Missouri emerged the winner. In turn the 303rd hosted Hawgsmoke 2008 at Smoky Hill Range, Kansas
List of previous winners
| | |
| --- | --- |
| 2000 | 118th FS |
| 2002 | 47th FS "Dogpatchers" |
| 2004 | None |
| 2006 | 303rd FS "KC Hawgs" |
| 2008 | 190th FS |
| 2010 | 190th FS |
| 2012 | 357th FS "Dragons" |
Game On!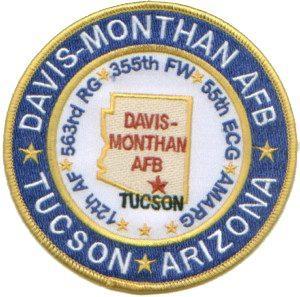 Hawgsmoke usually opens with a remembrance ceremony for fallen comrades. Following the reading of the names of all fallen A-10 pilots, a missing-man formation flies overhead. At the conclusion, the participants drink a shot of whiskey then smash the shot glasses, in honor and remembrance of old friends and colleagues. This year, the 'Fallen Hawg' fly over was performed on Wednesday 9 July 2014 when three A-10s overflew Davis-Montan AFB (AZ) late in the afternoon.
Due to funding, not all units brought their own aircraft to Davis-Monthan but were forced to use aircraft from units (cost for the using unit: 1 case of beer per aircraft..:-). Units had to arrive at Davis-Monthan AFB carrying the following payload:
1. 1150xPGU-15/B (30mm Target Practice Ammunition)
2. 1xLAU-131 (7 tube rocket launcher)
3. 1xTGM-65 (EO) (Maverick)
4. 1xTGM-65 (IR) (Maverick)
5. 1xATP (Sniper Advanced Targeting Pod)
"Usually Hawgsmoke itself takes place over two days and includes team and individual scoring of strafing, high-altitude dive bombing, 30-degree dive bombing, Maverick missile precision, and team tactics," said Maj. Kyle Lanto, a 355th Training Squadron pilot instructor. "But this year's competition focused more on forward firing."
The host squadron, 357th FS, selected 2014 Hawgsmoke flight evolutions that included the following:
30 and 45 Degree High Angle Strafe Runs (approximately 1 mile from target)
Low Level Long and Short Range Strafe (approximately 1 mile / 3,000 yards (respectively) from target)
Combat Search and Rescue – Locating a simulated down pilot
Navigation
An additional challenge for the units was that the gun (GAU-8/A Avenger 30mm) could only be used in manual mode. The mass briefings for all the participating units were held at Tuesday 8 July and Wedneday 9 July, prior to the actual competition on Thursday 10 July. The exercice started on Thursday 10 July, 06.40 AM sharp when the first team took off. With intervals of exactly 20 minutes team took off and subsequently headed to the Barry M. Goldwater range near Gila Bend (AZ). On this range, formerly known as Luke Air Force range, the teams had to perform the mentioned tasks, unfortunately not using the Mavericks and the rocket launchers. Besides that, teams could gain points for tactical planning and execution, including transit from Davis Monthan AFB to the range. At the end of the day, the team with the most points won the competition being the 47th FS "Dogpatchers", again from Davis-Monthan AFB